Furniture Paint from Frenchic at Lavender House
Bring Life Back to Furniture
Lavender House are exclusive suppliers along the Llyn Peninsula of Frenchic Furniture Paint, stocking an extensive range of paints at the Pwllheli store.
If you're looking for a new look to old furniture or want to transform your tired kitchen cupboards, doors, windows and more then Frenchic range will provide you with everything you need for when restoring and up-cycling to create that dramatic feature look.
You can view the various colour ranges available in store, where you can as questions, discuss your projects with our team and of course purchase Frenchic Paint and accessories.
What The Frenchic Range Has to Offer
Waterproof Frenchic Alfresco is our particular favourite due to its durability. It is great for transforming, tired kitchen cupboards and splash back tiles, furniture, doors and windows, garden furniture and more. A water based, very low VOC, chalk and mineral furniture paint specifically developed to transform outdoor furniture but perfectly fabulous for indoors too. Self Priming and Self Sealing with an almost flat finish, it is suitable for wood, laminate, UPVC and metal. Self levelling, meaning little to no brush marks.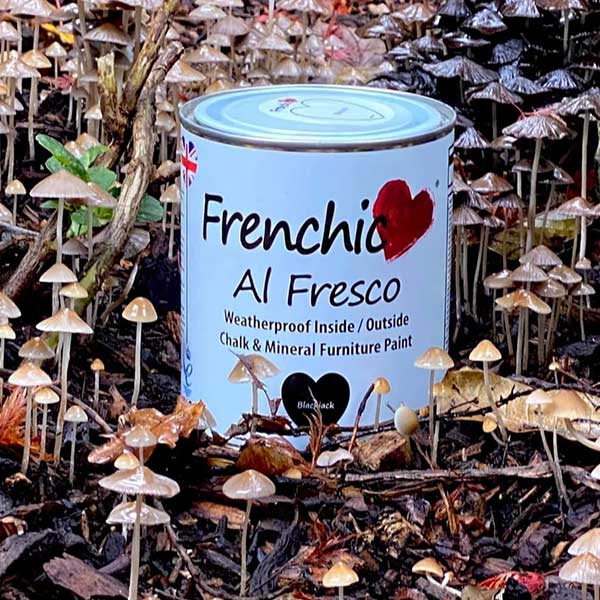 The Range Just Doesn't Stop There...
Frenchic Lazy Range is simply fabulous for transforming your wooden furniture. A Water-based, self priming, self sealing, easy to use paint with no added VOC'S. Works well with many surfaces including wood, laminate, metal UPVC and composites. It's unique infusion gives the finish a soft, very low sheen. Self levelling meaning little to no brush marks.
The Original Frenchic Artisan Range is an all natural, no added VOC'S traditional style chalk and mineral paint suitable for wood, laminate, metal, and many other surfaces without the need to prime. For a distressed effect, apply two different colours, one on top of the other, allowing at least 30minutes between coats. Gently, using a damp cloth or fine sand paper, run back the top colour to shabby through the underneath, leaving a distressed finish of the two. Seal with Frenchic finishing coat or one of the fabulous waxes.
Frenchic Chalk Wall Paint is luxurious, practical,Paint is a durable and washable, ultra matte, flat wall paint with superior coverage. This revolutionary product will enhance any room it graces.
Include with this range are the Frenchic Finishing Coat, Furniture Wax, Frenchic Fransheen, Easy Crackle and Frenchic Sugar Soap.
To get inspiration for projects visit our Facebook page where you'll find many successful products from many happy customers.
Shop
Our product range can vary quite quickly, with some popular product lines and styles selling out within a few days.
If you have seen a product in our store that you have now decided to purchase or you wish to enquire about a product you've
seen on our website, please contact us by completing our Call Back Request Form below.
We will make every effort to re-order or reserve products for either delivery or collection.
All call backs will be within our normal office hours where possible.